Airwork has developed a range of modification packages and STCs.
---
Please see below menu for list of MOD's and STC's. In addition, our unique combination of design and manufacturing skills and facilities means that we are able to tailor new design solutions to suit your needs.
Latest BK117 product released under NZCAA - HEC and Non HEC Dual Cargo Hook
Airwork (NZ) Ltd has developed a multi purpose dual hook for use on the BK117 helicopter. This dual hook system meets 29.865 requirements and is capable of Class B and D Human External Cargo (HEC) load combinations per
FAA AC133-1B.
The dual hook system provides operational ease and versatility, the BK117 quick-release dual hook and beam assembly can be installed and removed in easily without tooling.
The STC offers multi-purpose Human External Cargo (HEC) and Non-HEC capability with no reconfiguration required.
Safety
Dual Activation Device
FAA AC133-1B and 29.865 compliant HEC System.
Robust low profile frame design offering strength and durability
Incorporates keeperless cargo hooks
Hydraulic secondary release system (rather than mechanical), reduce risk of unintended load release.
Operational efficiency
Standard control positions for improved pilot workload/HMI
Both primary electrical release buttons on the cyclic
Both secondary hydraulic release levers on the collective
500kg Secondary HEC hook
1400kg cargo hook
Hooks remain clear of the ground when landed (compared to underslung systems which drag on the ground until stowed)
Onboard Systems Load Cell weight system incorporating the next generation C-40 indicator with hook hour meter
Can remain on the aircraft during refueling and transit flights
Improved unloaded hook Vne limit (117kt vs 70kt). Resulting in reduced load cycle turnaround.

HEC brochure Sept website 2022.pdf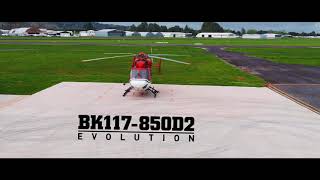 Soloy SD1 and SD2 Conversion Kits
If you have any questions or would like further information please contact the Customer Care Team at Airwork
E: sales@airworkgroup.com
P: +64 9 295 2111
Airwork today announced it has signed a contract with Soloy, LLC trading as Soloy Aviation
Solutions to acquire several of its helicopter engine modification Supplemental Type
Certificates (STC).

These STC's allow Airwork as the exclusive owner to convert the turbine engine in an AS350-
BA and B2 aircraft from a Safran Arriel engine to the Honeywell LTS101 or Rolls-Royce* 250-
C30 engine.

Airwork will leverage its long-standing engine overhaul capabilities and its manufacturing
expertise to continue to produce Soloy conversion kits for operators who are seeking the
benefits of a Honeywell LTS101 engine upgrade for their AS350 fleet. Airwork is also an
Authorised Airbus Service Centre and able to assist operators with the installation of their
engine conversion kits.

Shane McMahon, Airwork General Manager welcomed the announcement, stating that the
acquisition represents an acknowledgement of the industry leading MRO capabilities that
Airwork offers.

"The Soloy STC is known around the world and we are thrilled they have given Airwork
exclusive ownership of the Soloy AS350 Super D, SD1 and SD2 STCs. These are
a valued addition to the range of design modifications already held by Airwork under FAA,
Transport Canada and EASA", Mr McMahon said.

Elling Halvorson a Director of Soloy said, "he is pleased to be able to pass stewardship of these
Soloy STC's to a company with the breadth of capability to be able to support our existing
customers and continue to service the huge demand for this modification."

Existing operators of the Soloy AS350 engine STC will continue to be supported by the Airwork
Customer Care Team, with spare parts provisioning and technical advice for their Honeywell
LTS101 and Rolls-Royce 250-C30 engine modification.

"The Soloy STCs acquired by Airwork ensures that our industry continues to receive service for
the relevant Soloy installation, as well as the assurance of continued support for the LTS101
engine product line from our Honeywell Approved Service Centre."

This is a significant strategic acquisition for Airwork and represents a great opportunity for
operators to receive bolstered support for their Airbus AS350 helicopters.
* "Rolls-Royce is a registered trade mark of Rolls-Royce Plc. We are not affiliated or associated with Rolls-Royce Plc".

About Airwork
Airwork's helicopter business provides industry-leading MRO (Maintenance, Repair and
Overhaul), design and support services to aviation operators globally, including the
maintenance, repair and overhaul of turbine engines and dynamic components, design of new
modifications and avionic inspection, repair, testing and installation. Airwork has a unique and
comprehensive range of capabilities due to its experienced personnel, world class technology
and having obtained a range of certifications from Aviation Authorities (including certifications
from New Zealand, USA, Europe, Transport Canada, Papua New Guinea, South Africa, Nepal
and Indonesia).
With Airwork's maintenance, testing and design capabilities, all of which is located at its facilities
in Auckland, New Zealand, Airwork can provide safe and cost-effective solutions to helicopter
operators around the world.
Airwork also provides helicopter leasing, crewing charter services for emergency medical
services, police operations, search and rescue, tourism and oil, gas and mineral exploration
operators globally.

About Soloy Aviation Solutions
Since its 1969 inception, Soloy Aviation Solutions has been the manufacturer of premium
quality aviation Supplemental Type Certificated products. Over the past 50 years, Soloy has
developed a full line of aircraft products from less complicated helicopter and fixed wing
accessories to complex conversions of single engine to twin engine configurations. To date,
Soloy has developed more than 60 Supplemental Type Certificates (STC's) for the modification
of over 700 aircraft operating in over 35 countries around the world.
Soloy Aviation Solutions provides its customers with efficient, reliable and cost effective aircraft
products. Each product reflects a commitment to precise design, precision manufacturing and
exceptional performance. Comprehensive testing, exacting quality standards, innovative
design and our dedicated professional staff assure that every customer receives the best
products and service available anywhere.
Soloy Aviation Solutions will continue to provide support and services under new ownership
for the remaining STC conversion products while developing new products that enhance
safety and increase utilization by improving performance and reducing operational costs."
Soloy AS350 Allstar and Bell 206 STCs
Airwork are proud to announce we are now the exclusive owner of several Soloy Engine Modification STCs including AS350 Allstar and Bell 206 STCs.

Airwork has a long-standing Rolls-Royce engine overhaul capability and is also an Authorised Airbus Service Centre for your Dynamic Component overhaul and repair needs. This coupled with our manufacturing expertise will enable us to continue to produce Soloy conversion kits for you if you are looking at future conversions. This enables Airwork to offer a more comprehensive single point of support for you the operator.

The primary contact at Airwork is
Customer Care Team
E: Sales@airworkgroup.com
P: +64 9 295 2111

About Airwork
Airwork is an industry leading FAA, EASA, TC1, CAANZ certified helicopter engineering, sales and leasing company. Providing in-house expertise, world class technology and certifications within the global aviation market. We are an Airbus, Honeywell and Breeze Eastern approved service center. Workshops and services include Turbine & Dynamic Component Overhaul, Repair and Inspections, Avionics, Manufacturing, NDT, Parts, Sales and Leasing.
AW139 Wet Floor
Introducing the Airwork standard fit Wet Floor for the Leonardo AW139 helicopter. Configured for either permanent EMS/SAR or offshore passenger transfer services requiring a rapid role change capability to enable evacuation of personnel injured in the field or survivors requiring winch retrieval from the sea.

BK117
850 Engine Upgrade
Airwork holds the only STC for the BK117-850D2. The BK117-850D2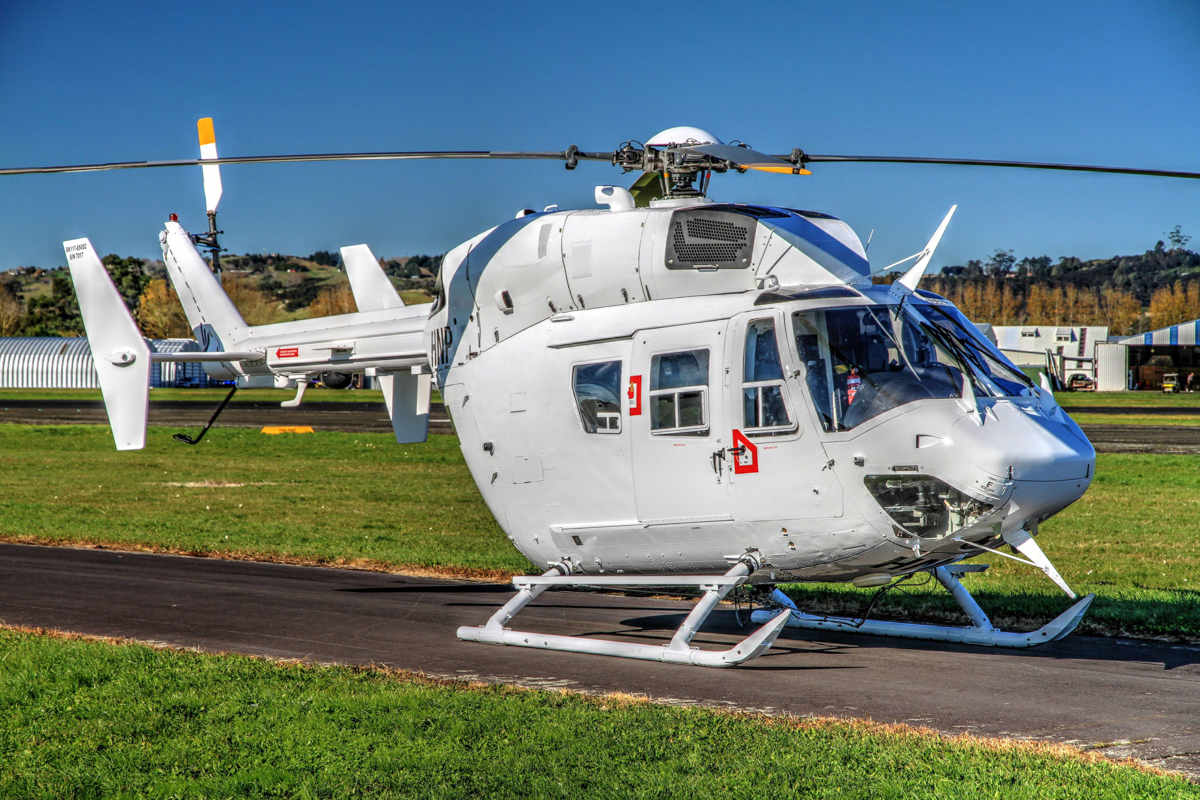 offers an economical way to meet the new Category A requirements while dramatically enhancing the performance, safety and capabilities of the helicopter. The BK117-850D2 has been designed with a focus on operational safety and superior Category A compliance with proven reliability and increased performance
Particle Separator (Sand Filter)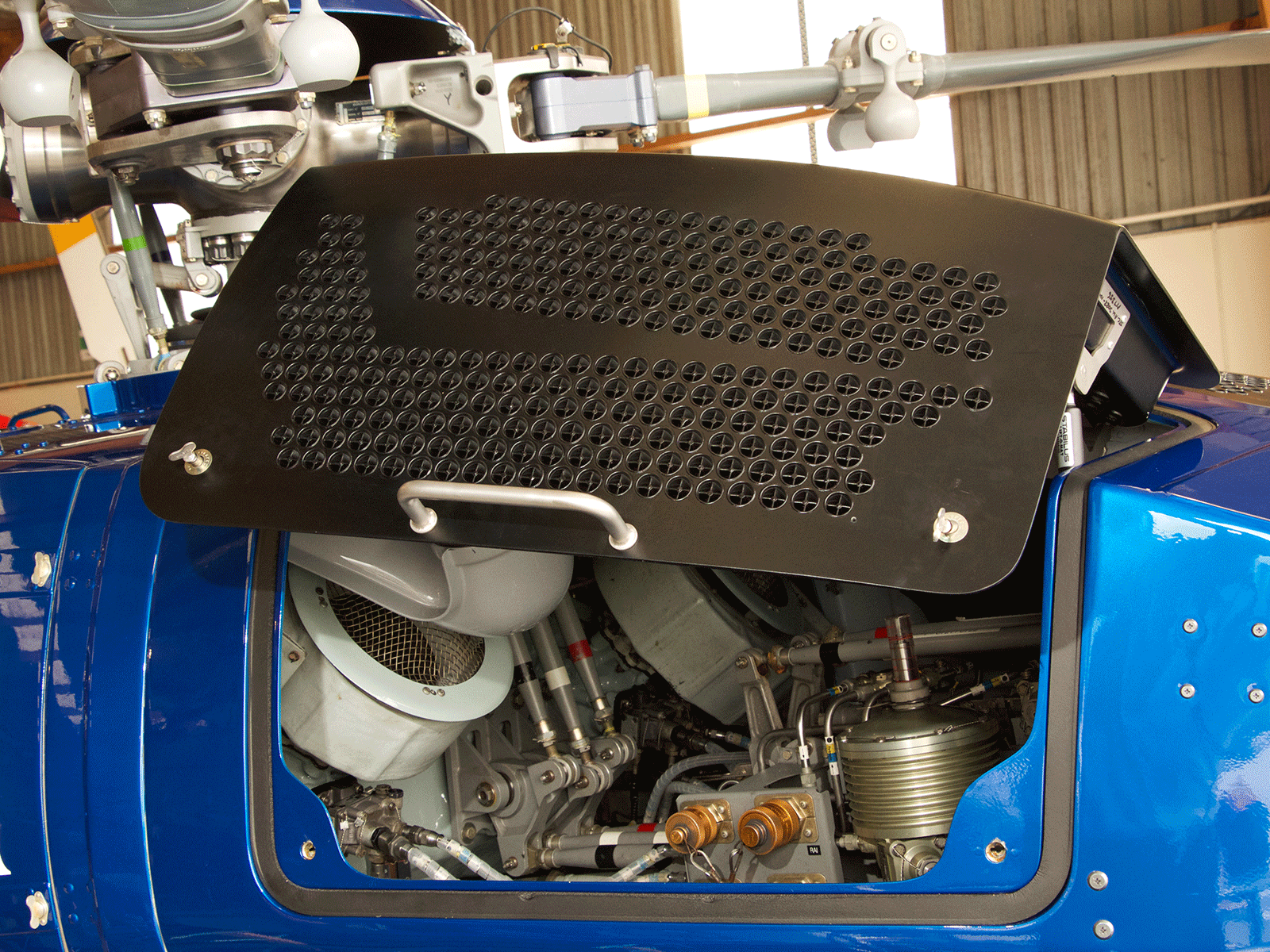 The Particle separator system has three dimensionally curved panels that not only provide an aesthetically pleasing shape, but also provide an aerodynamic low drag profile that reduces the overall drag of the helicopter in forward flight.
9 Place Seating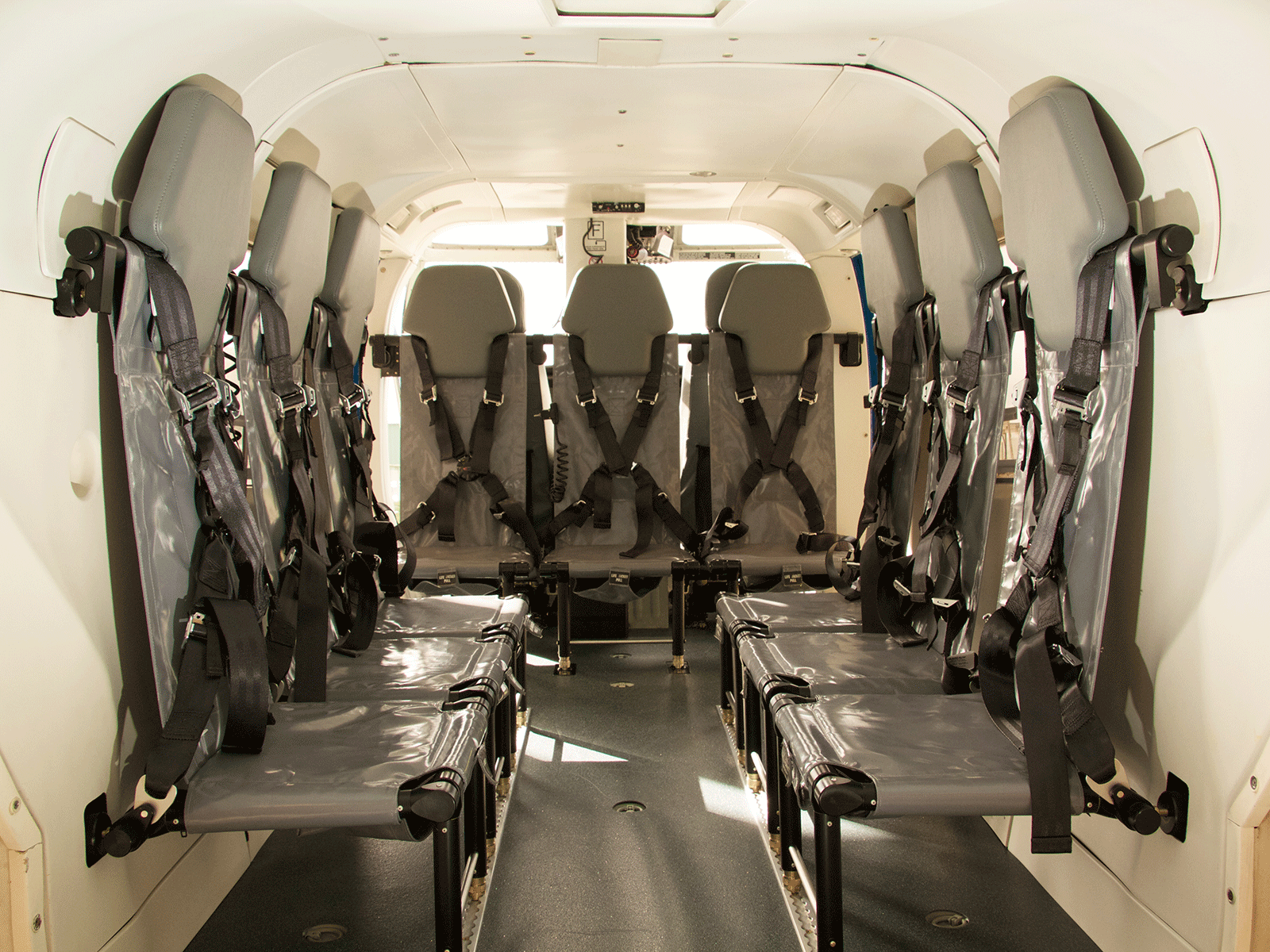 Providing lightweight seating in the cabin, with three individual folding seats which can be installed in the Aft facing, Left hand side or Right hand side configurations or any combination of the three. The seat assembly can be readily installed without the need for specialty tooling.
Cargo Hook and Mirror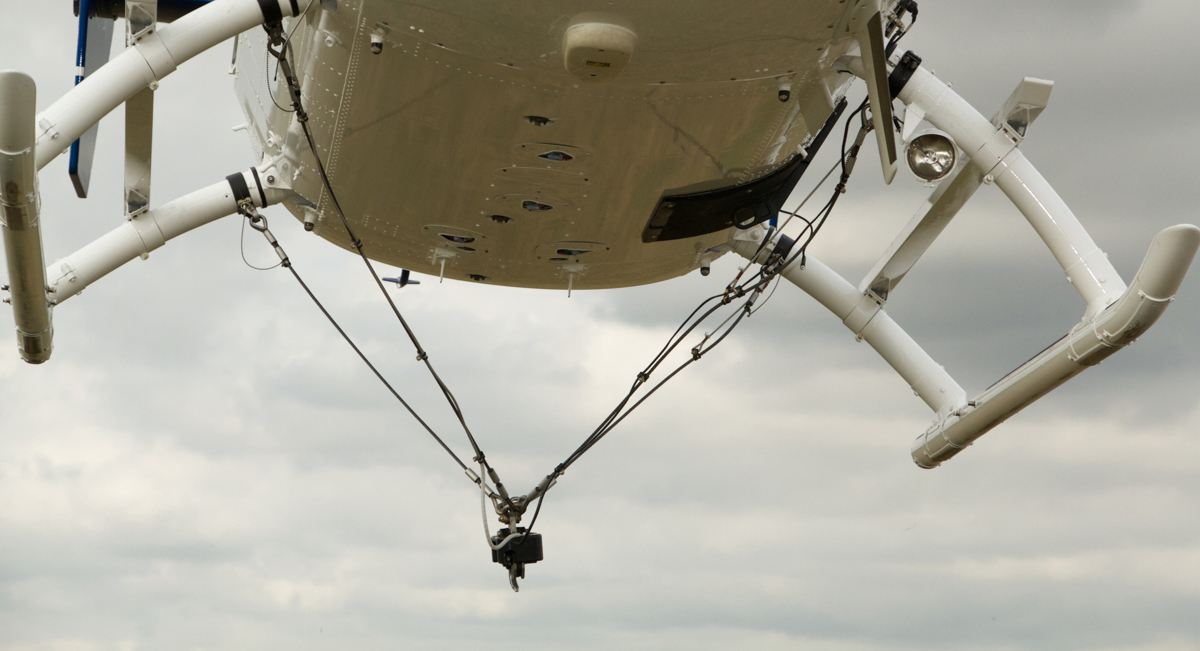 With a carrying capacilty of up to 1200kg, the cargo hook kit utilises the on-board systems cargo hook with the option of either hydraulic or manual release.
Cargo Hook Load Cell
This modification installs a modified On-board systems E-69 electronic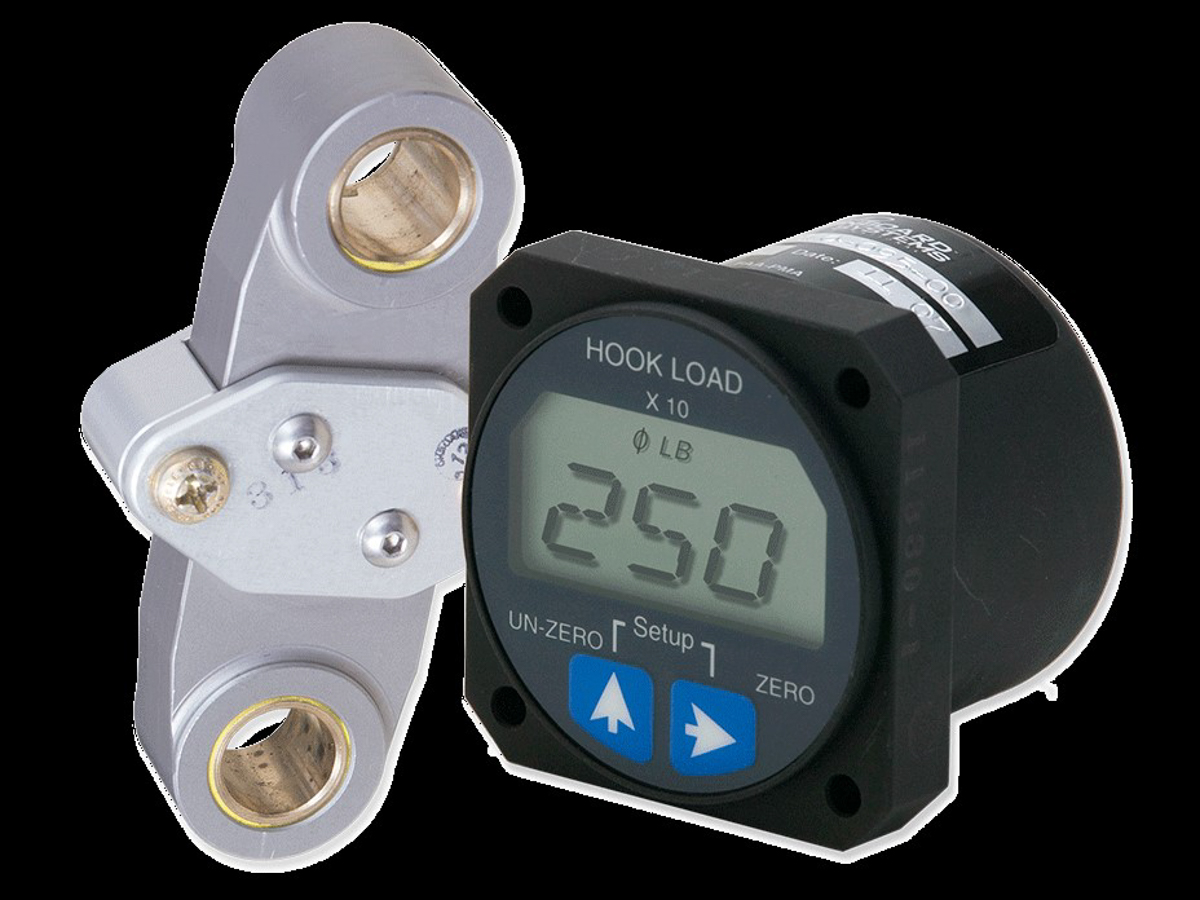 load cell to the cargo Hook and associated gauge into the pilot compartment of the rotorcraft, providing a means ot view actual payloads transported during cargo hook lifting operations.
Floor Protector
This modification incorporated the installation of forward, centre and aft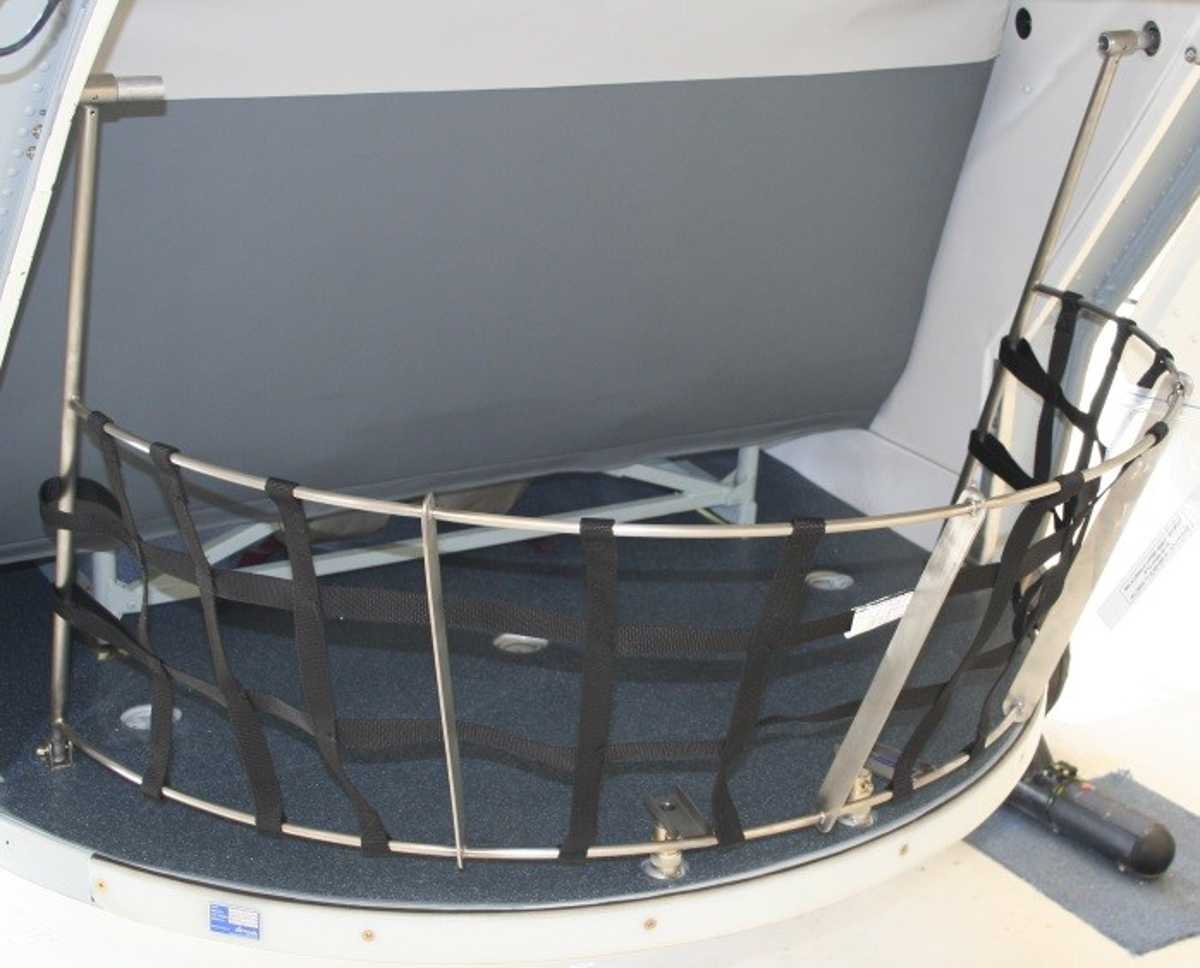 cabin floor protectors over the existing cabin floor AFT of STA 3176.
Rear Cargo Frame
This modification installs a rear cargo frame and webbing to the rear compartment of the rotorcraft to assist with positioning of the cargo and to prevent damage to the rear cargo door
Stretcher Kit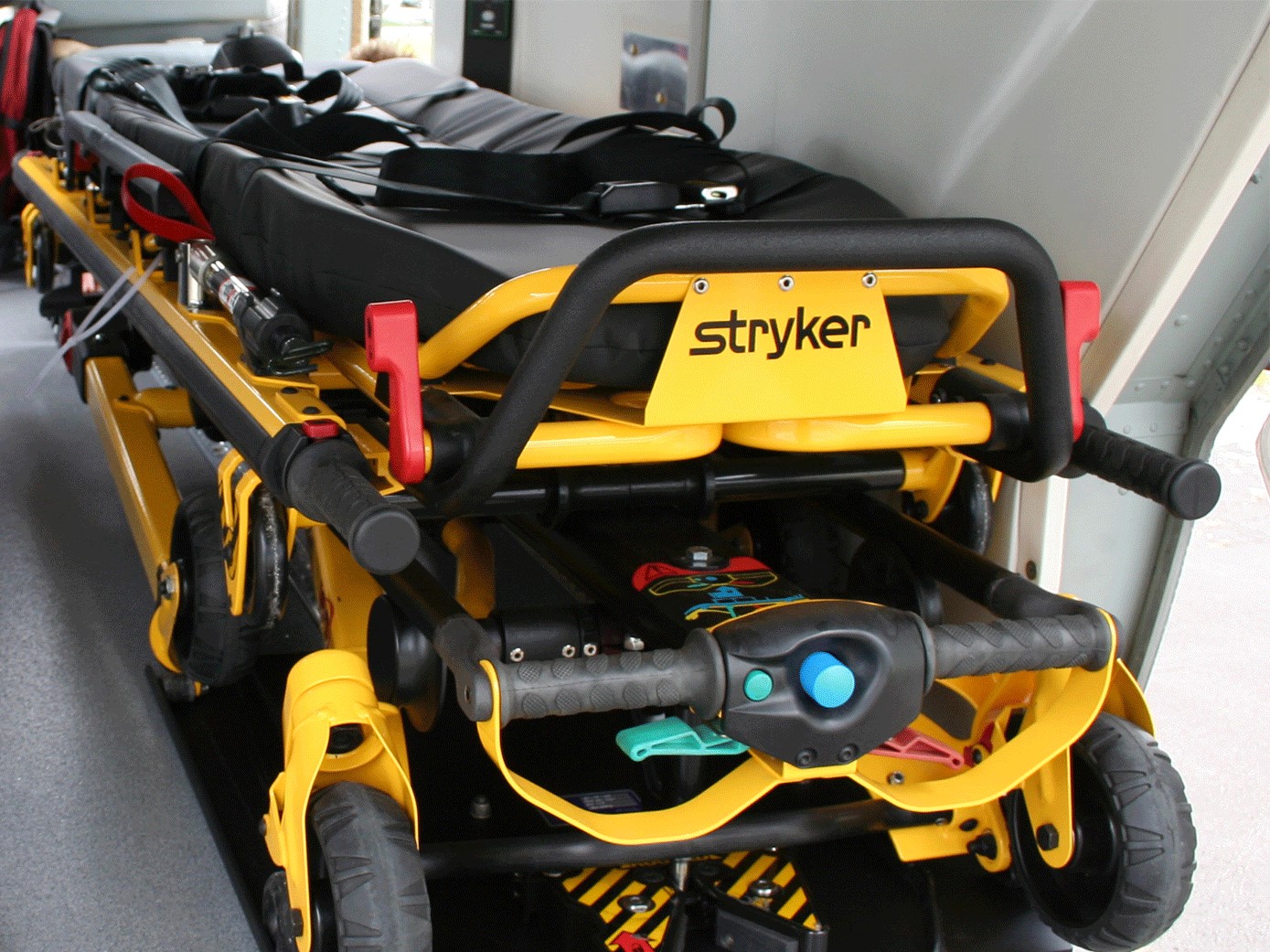 This modification installs attachment fittings for a Stryker M-1 Stretcher including a ramp to air in the installation and removal of the stretcher.
Rescue Hoist
A 600lb Breeze Eastern winch is fitted to a removable hoist arm located on the left hand side of the aircraft. The Airwork designed and manufactured hoist is mounted on a rotating boom that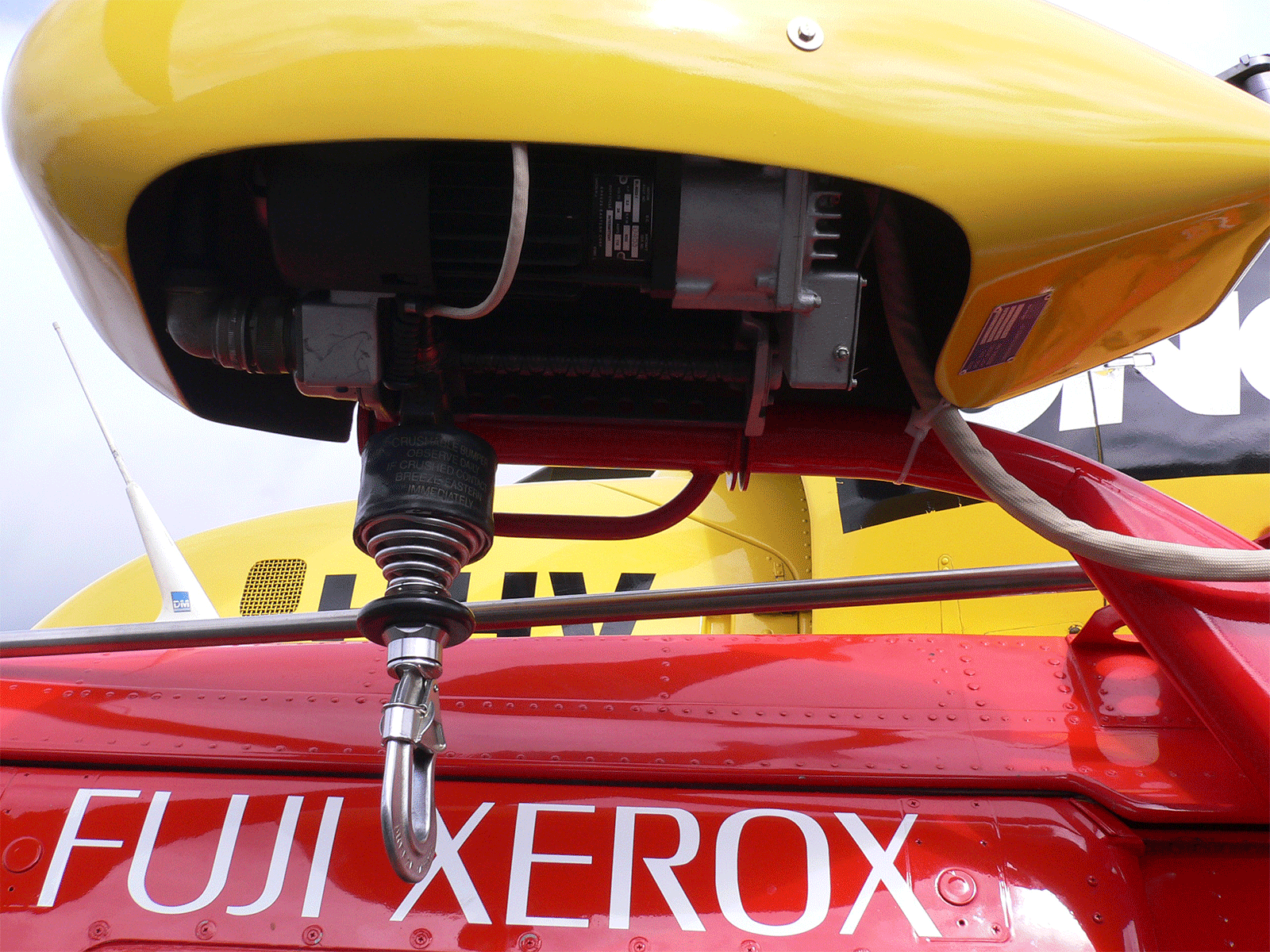 may be moved between the stowed and extended positions by an actuator controlled by the hoist operator. Pilot control option is also available.
Fuel Filler Neck Plate Assembly Kit - Now FAA Approved
The Fuel Filler Neck Plate Assembly Kit is to provide a bearing surface for the fuel filler cap when the fuel filler neck is worn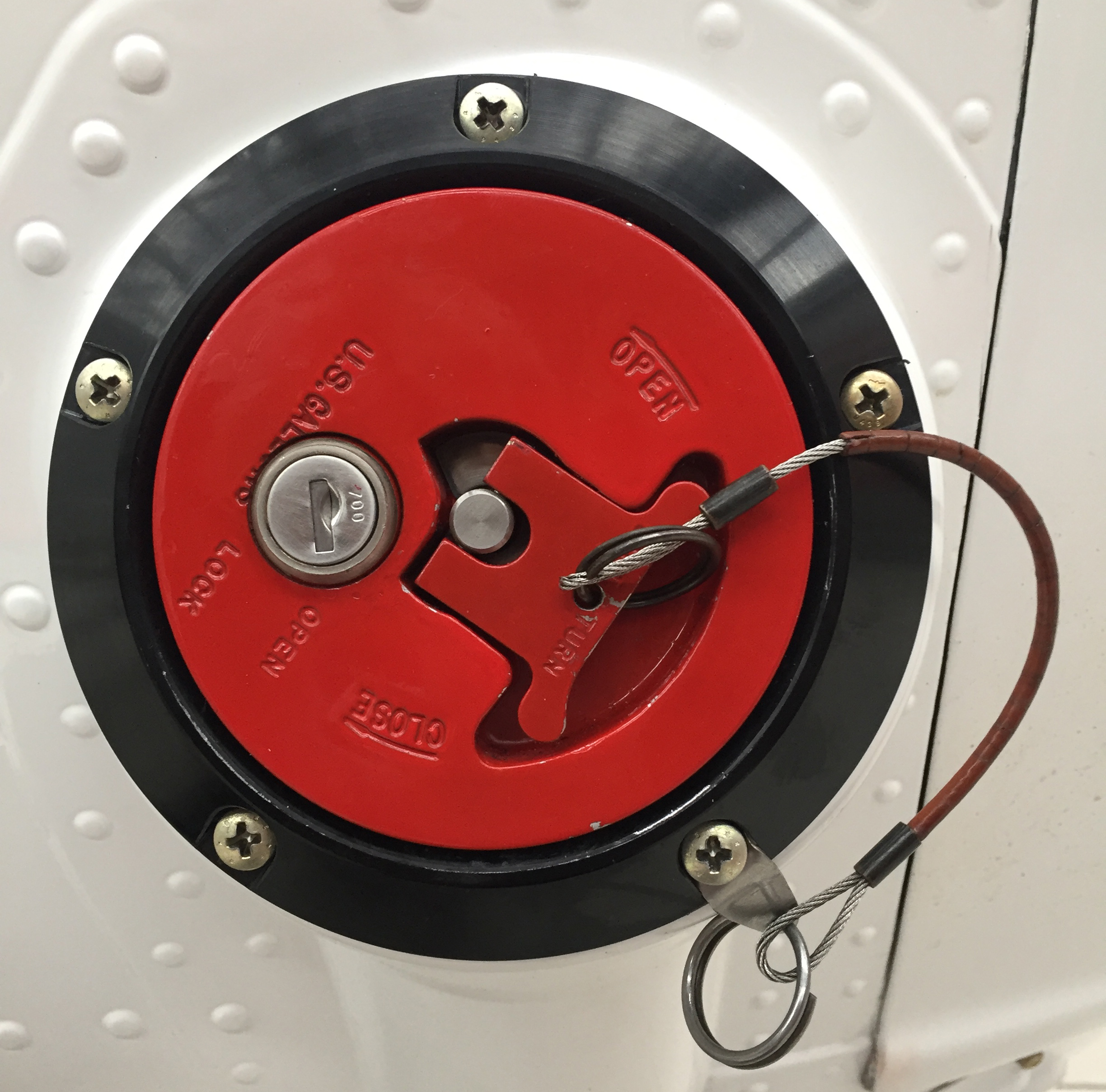 beyond limits.
Key benefits include,
Extended life of the fuel filler neck

Significant reduction in maintenance and repair costs

Minimal down time with quick install tiem

Protects against wear of the fuel cap locking points
BK117 Glass Cockpit
BK117-850D2 Glass Cockpit - Download fact sheet here
Genesys IDU 450 (4"x 5") Smart Screens
Configured

as Primary F

light Display / Multi-Function Display (each pilot) self contained flight management system.
L3 Trilogy Standby Instrument
Combines attitude, alititude, airpseed, slip/skid and optional heading data in a single digital display
Dual Torque Indicator
INSCO Solid State critical engine instrument. Significantly more reliable than previous electro-mechanical versions. Meets TSO C47
N1 Indicator
INSCO Solid State critical engine instrument. Significantly more reliable than previous electromechanical versions. Meets TSO C47
Turbine Outlet Temperature Indicator
INSCO Solid State critical engine instrument. Signicifantly more reliable than previous electro-mechanical versions. Meets TSO C47
AS350 / AS355
Dual Front Seat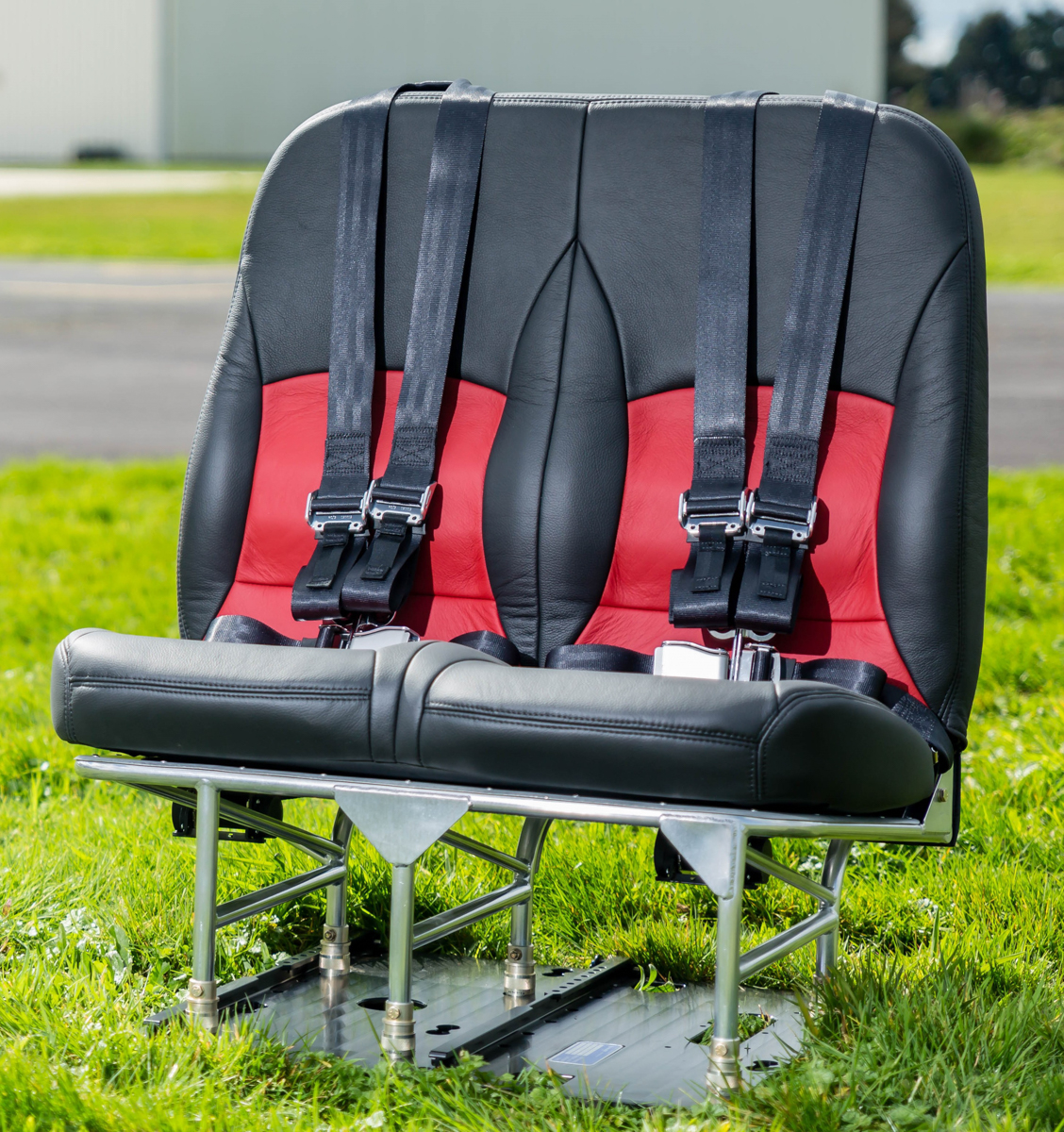 This modification introduces the installation of a two place front seat to increase the passenger load, where the seat is installed in lieu of the co-pilots seat. The mounting plate allows for a swift configuration change from co-pilot to dual front seat
Pilot Seat Shift Kit
The pilot seat shift kit allows for a shift of the pilot seat 90mm out board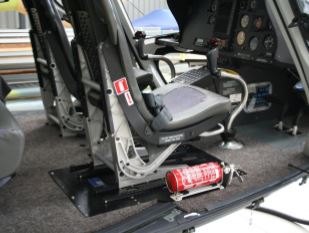 from the standard position, affording superior visibility when undertaking cargo hook or long lining missions. the collective and pedal extension re-centralise the seating position for best ergonomics.
Rescue Hoist
A 300lb or 450lb winch is fitted to a removable hoist arm located on the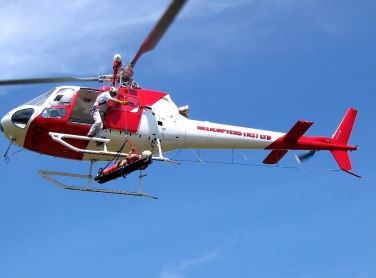 left hand side of the aircraft. The airwork designed and manufactured hoist is mounted on a rotating boom that may be moved between the stowed and extended positions by an actuator controlled by the hoist operator. Pilot control option is also available.
External Cargo Hook Mirror
The modification installs an external mirror or mirrors to the right hand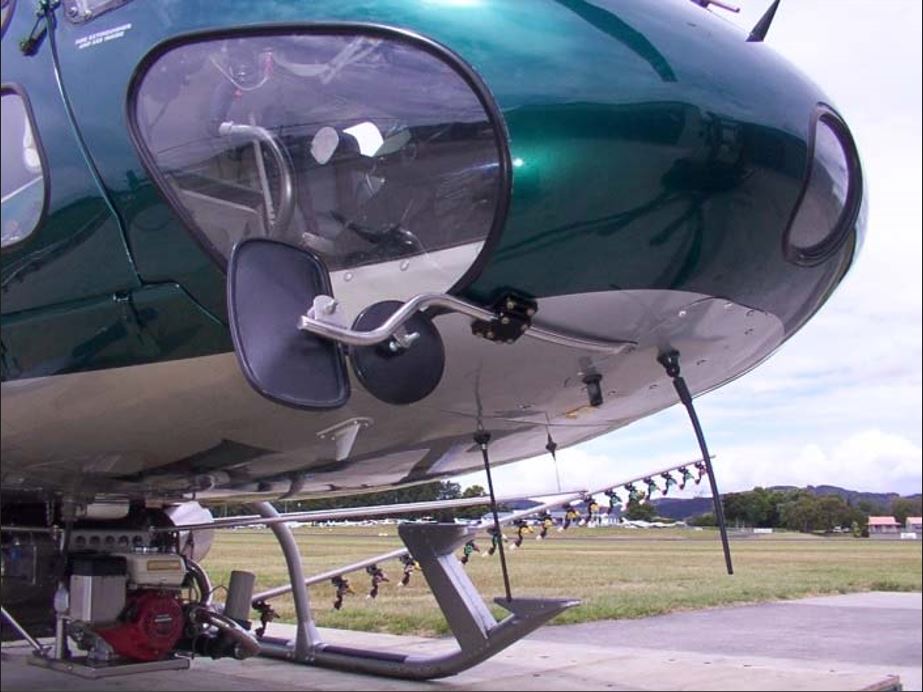 forward side of the rotorcraft to enable the pilot to view operations through the forward right hand lower window which provides visual reference for the pilot for external loads.
Part 27 Cockpit Upgrade
Advanced Safety and Reliabiltiy Solution. Key capabilties of the system include;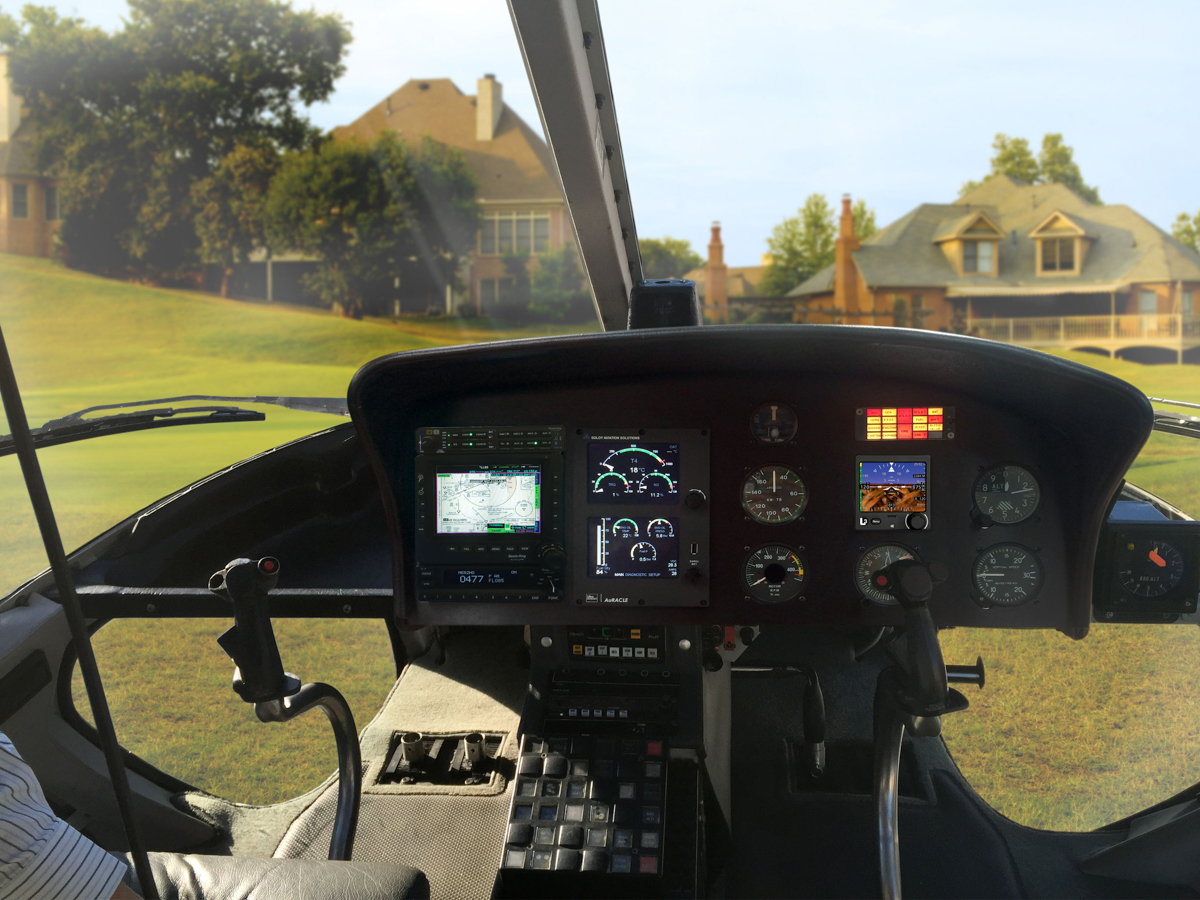 Bendix King KMA 30 Audio Panel

Bendix King KSN 765 Safety Navigator

Bendix King KT74 Mode S Transponder

Soloy AS350 Super D2 Electronic Engine Monitoring System

L3 ESI 500 - Multi-Function Display
Other Helicopter MODs
Airwork has also devleoped a range of modification packages for the following aircraft types;
EC135

EC130

EC120

Bell Series
Products include
EC130 Snow Shoes

EC130 Stretcher Mounts

EC120 Frost Lights

Medivac Equipment

Nightsun Mounts

Police Airborne Support Equipment

Rescue Hoist Systems

AS350 Collective Switch Box

Infra Red Systems

Seating configurations
HeliVue
The HeliVue upgrade is a comprehensive cockpit replacement for AS350 operators that increases safety margins, operational efficiency and airframe value. The core upgrade includes the AeroVue Touch PFD/ MFD and AeroNav MFD, installed with an all new instrument panel kit and sensor package. The EFIS provides flight crew all primary flight, navigation, flight planning functionality via modern touch screen high resolution screens, with the latest advanced terrain and traffic awareness systems providing increased situational awareness.
Contact Us
For more information about Modifications and STC's contact the team